*The Wells Fargo Health Advantage credit card is issued with approved credit by Wells Fargo Financial National Bank. Ask for details.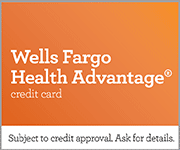 Payment Options
Payments can be made by cash, check or credit card. We accept Visa, MasterCard, Discover and American Express.
Various financing options through the following independent credit providers; Care Credit, Citi Financial Health and Wells Fargo are available. Our staff will be glad to assist you in choosing the one that is best for you. Application for credit may be done online through our office, or you may apply online personally by clicking the logos.